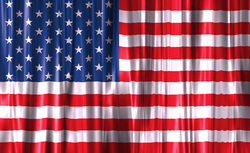 A Veteran Owned
Corporation
We Support Our Troops
15670 Montana
(915) 491-7263
---
Text "AEPB" to 31996 to sign up for the American Eagle Paintball VIP Club.
You will receive exclusive deals and discounts 2 times a month.
So, what are you waiting for? Let's do this!

Text "Splat" to 31996 to sign up for our RED HOT deals. These are deals that are good for a couple of hours, a specific time frame, or a certain day. Just another way of helping you have some real fun!

Are you afraid of getting hit with a paintball?
Have you heard it's fun but it hurts too much?
Do you want to play paintball but you're parents say you're too young?
We have the answer!
Introducing JT Splatmaster.
Perfect for the first timer or squeamish player who wants to have fun and not get bored with laser guns.
Less expensive than laser tag, less impact than regular paintballs, but still paintball.
We are the only paintball field in the area to offer the JT Splatmaster party packages.
There's more information on the Splatmaster page.



Party Reservation Special June 1st - July 31st, 2014
Make a reservation for a party of 8 or more for any Saturday or Sunday from June 1st to July 31st, 2014 and save $5 off our regular price on any package. The party must take place between June 1st - July 31st, 2014 and reservations must be made on this website on the reservation page. The special is good for each player in your party and does apply to night games. At least 8 players must attend.
It's all about the fun, at American Eagle Paintball!

---

Our weekday specials are listed on the Specials and Events page of this site

At American Eagle Paintball you can expect to receive stellar customer service and the best prices on the best packages. There are no hidden fees, just honest upfront pricing and a one of a kind, real fun paintball experience for all ages you can only find at
American Eagle Paintball.
OFTEN IMITATED, CAN NEVER BE DUPLICATED!
We are open Tuesday through Sunday, and we are never closed on weekends.
Our regular hours of operation are posted on the Pricing and hours tab, and we are always open by appointment after or before hours.

We have 3 exclusive fields to choose from;

The MilSim field is the size of two football fields side by side, the only field in the region to incorporate the natural changes in elevation and foliage to enhance the realism of the games. This field is where you will find "the tank", the M114 APC, the helicopter, the boat, and "the MPV", as well as other man made and natural barricades, exclusively at American Eagle Paintball.
Hyperball Field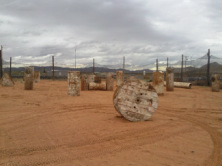 The Hyperball field is an NPPL regulation size 7 man field with corrugated pipe and other barricades on it.
---
Tire Field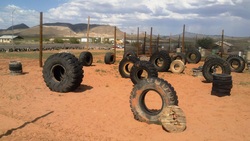 The Tire field uses HUGE earth mover tires on a 75ft x 150ft field for fast paced, adrenaline pumping action for 1 on 1, or up to 4 on 4 player games. And yes, most of the wheel holes are covered.

---
Be sure to take a look at the Early Bird specials on the Specials and Events page

americaneaglepaintball@yahoo.com