A Veteran Owned Corporation
We Support Our Troops
15670 Montana
(915) 491-7263

*****NEW WEEKDAY SPECIALS*****

At American Eagle Paintball you can expect to receive stellar customer service and the best prices on the best packages. There are no hidden fees, just honest upfront pricing and a one of a kind paintball experience you can only find at American Eagle Paintball.
We have 3 exclusive fields to choose from;

The MilSim field is the size of two football fields side by side, the only field in the region to incorporate the natural changes in elevation and foliage to enhance the realism of the games. This field is where you will find "the tank", the helicopter, the boat, and "the MPV", as well as other man made and natural barricades, exclusively at American Eagle Paintball.
Hyperball Field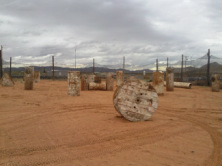 The Hyperball field is an NPPL regulation size 7 man field with corrugated pipe and other barricades on it.
---
Tire Field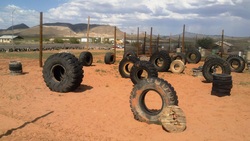 The Tire field uses HUGE earth mover tires on a 75ft x 150ft field for fast paced, adrenaline pumping action for 1 on 1, or up to 4 on 4 player games. And yes, most of the wheel holes are covered.

---
Be sure to take a look at the Early Bird specials on the Specials and Events page

Be sure to swing by our neighbors

---